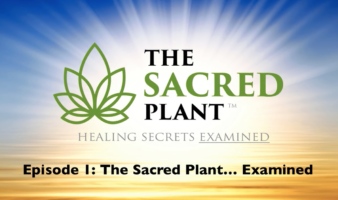 The Sacred Plant: Healing Secrets Examined - Episode 1
This entry was posted on June 22, 2018 by The Health Cure.
Welcome to Episode 1 of Season 2 of the groundbreaking documentary series "The Sacred Plant: Healing Secrets Examined."
You'll discover what makes the sacred plant...medical cannabis...such a powerful healing agent and learn about the dark history of its unjust prohibition.
You'll hear heart-wrenching and inspiring stories from survivors of chronic illnesses and cancer, including a four time Grammy Award winning singer and a little 2 year old boy who beat brain cancer twice.
This is the largest and most comprehensive series ever produced on the topic of natural plant based medicine.
If you or a loved one is looking to prevent, treat and even beat a life threatening disease, this eye-opening docu-series will provide you with the tools you need to make informed and empowered decisions about the health for you and your family.
Episode 1 is entitled: The Sacred Plant...Examined.
Here's what you'll learn in this episode:
· How the endocannabinoid system works in tandem with cannabis
and why it's so important to our health
· NEW cutting edge advancements in medical cannabis research
· How the 'Disinformation War' has given cannabis a bad name and why knowing the truth is critical to your health or that of a loved one who may be sick or suffering
· Plus you'll meet Cash, Shannan, Joey, and David and hear their stories of treating, healing, and even beating their life threatening diseases.
Source: Youtube
Posted By The Health Cure, June 22 2018