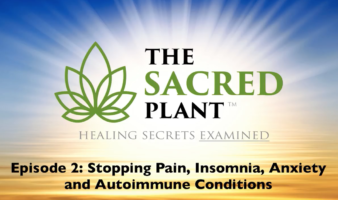 The Sacred Plant: Healing Secrets Examined - Episode 2
This entry was posted on June 22, 2018 by The Health Cure.
Welcome to the second episode of Season 2 of the groundbreaking documentary series "The Sacred Plant: Healing Secrets Examined."
Episode 2 is entitled: Stopping Pain, Insomnia, Anxiety and Autoimmune Conditions.
This is the largest and most comprehensive series ever produced on the topic of natural plant based medicine.
If you or a loved one are looking to prevent, treat and even beat a life threatening disease, this eye-opening docu-series will provide you with the tools you need to make informed and empowered decisions about the health for you and your family.
Here's what you'll learn in Episode 2:
How to decrease reliance on medication for Crohn's Disease
The profound effect of cannabis on migraines
How to reduce and even eliminate prescription meds
How the sacred plant calms anxiety and sleep disorders
Plus you'll meet Richard, Sarah, and Mitra and hear their stories plus what they suffer from how The Sacred Plant helped them.
Source: Youtube
Posted By The Health Cure, June 22 2018