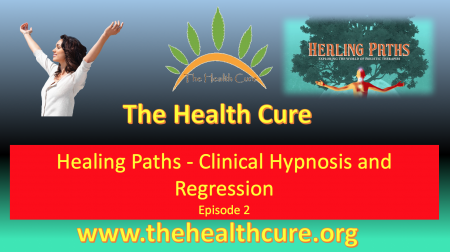 Healing Paths - Clinical Hypnosis and Regression (Episode 2)
This entry was posted on September 25, 2022 by The Health Cure.
Some people feel as though they have lived a completely different life that occasionally has crossovers into their present existence, whether it be concerns, anxieties, or even desires. We all occasionally have this feeling of deja vu, which is kind of bizarre and surreal. Episode 2 is all about Clinical hypnosis, regression, and how the past could hold the key to a more healed future.
Tags: The Health Cure, Medicinal Cannabis, Rick Simpson, Run From The Cure, Cancer Cure, Cancer Cells, Cannabis, Marijuana, Cannabisoil, Forbidden Cure, Medicine, Cure all, Cannabinoids, CBD, Cannabidiol, Parkinson, Multiple Sclerosis, Documentary, Testimonials, THC Oil Cures Cancer, Cannabis Oil Cures Cancer, Hemp Oil Cures Cancer, Endocannabinoids, Medical Cannabis, CBG, Skincancer, Hempcream, THC Cream, healing paths, clinical healing, hypnosis and regression