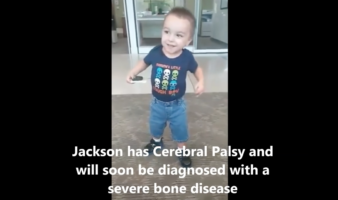 Treating Cerebral Palsy with Cannabis
This entry was posted on October 9, 2022 by The Health Cure.
Little Jackson suffers from Cerebral Palsy and a severe bone disease called Chronic Recurrent Multivocal Osteomyelitis (CRMO). Jackson was unable to walk without the aid of a walker until his mom started him on low THC oil (ACDC coconut oil infusion 12:1 ratio). And then THIS happened.
Tags: The Health Cure, Medicinal Cannabis, Rick Simpson, Run From The Cure, Cancer Cure, Cancer Cells, Cannabis, Marijuana, Cannabisoil, Forbidden Cure, Medicine, Cure all, Cannabinoids, CBD, Cannabidiol, Parkinson, Multiple Sclerosis, Documentary, Testimonials, THC Oil Cures Cancer, Cannabis Oil Cures Cancer, Hemp Oil Cures Cancer, Endocannabinoids, Medical Cannabis, CBG, All-in 7 or 14 Days Treatment at The Health Cure Centre,