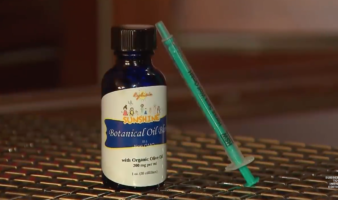 Meet Delaware Teen Who Takes Cannabis Oil to Stop Tumors
This entry was posted on October 1, 2022 by The Health Cure.
Rylie Maedler, 13, takes cannabis oil once in the morning, during lunch, at dinner and before bed. The Delaware teen has been taking it since she was 7 after being diagnosed with aggressive giant cell granuloma, a rare type of tumor. Rylie's now made it her mission to help other sick kids get the medicine they need. She's already helped pass three laws in her home state.
Tags; The Health Cure, Medicinal Cannabis, Rick Simpson, Run From The Cure, Cancer Cure, Cancer Cells, Cannabis, Marijuana, Cannabisoil, Forbidden Cure, Medicine, Cure all, Cannabinoids, CBD, Cannabidiol