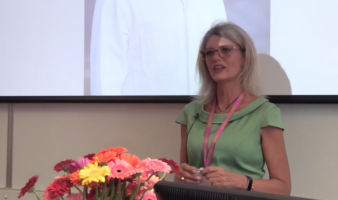 Mandy Hazard - Cannabis : Medicine of the Gods... Heroic doses of THC versus Pancreatic Cancer
This entry was posted on December 13, 2019 by The Health Cure.
In 2014 I was told that I had a recurrence of pancreatic cancer. The primary tumour had metastasised to my liver and I was handed a death sentence. Imagine my surprise when an incredibly generous young woman, a princess, offered to be my benefactor and pay for my cancer treatment at a private oncology clinic in Germany. My husband Steve and I started researching what we could do to compliment the treatments at the clinic and one thing kept coming up… medical cannabis. In 2014 there was so much conflicting information on the internet about CBD & THC that we were not sure if the oil would have a detrimental affect on the cancer treatments that I was having in Germany.
After one year and 500,000 euros worth of cutting edge treatments including Immune therapy, Immune support and other conventional medicine, the cancer had progressed. Meantime many of my fellow patients had died. It was a very dark time. In early 2015, a fellow patient recommended an underground Dutch company that made laboratory tested, organic, whole plant Cannabis oil. I started taking THC in huge quantities, as much as 1800 mg a day...stoned immaculate! My oncologist was supportive of me taking the oil in conjunction with all the other treatments. What astounded him was how well my body tolerated all of the conventional cancer medicines, better than any other patient he'd had.
In March 2016 I achieved a stable result and was put on observation for 12 months during which time my only medicine was THC & CBD. My next PET-CT scan in March 2017, showed further regression of the pancreatic tumours and, the disappearance of most of the tumours in my liver. This overall reduction put me solidly into partial remission! Having achieved such a fantastic result and having met so many fellow patients who had died (mostly through cancer treatments rather than the disease itself) we felt compelled to spread the word of everything that we had learnt about medical cannabis. So in 2017 we opened the first dedicated medical cannabis centre in Spain, offering qualified support, advice and guidance to patients with ailments ranging from minor to life threatening.
We now have our own brand of CBD products called The Healing Connection. What we have learnt at the coalface of medical cannabis is nothing short of remarkable. I look forward to sharing our discoveries with you.
Mandy Hazard is the owner of a small business in Spain called The Healing Connection. In 2017 she opened a dedicated medical cannabis centre and learned so much about medical cannabis at the coalface working with real people in real life situations. She studied and qualified in medical cannabis in the USA, and have made it her life's work to help others with this remarkable medicine. In 2019 she launched her own brand of CBD products called The Healing Connection. The aim is to provide their customers with the highest quality medicine combined with full holistic support, counselling and dosage advice. She is a stage 4 pancreatic cancer survivor having completed an 8 year treatment journey combining pharmaceuticals and plant medicines including cannabis, ayahuasca and DMT. She took heroic doses of THC combined with CBD with extraordinary results in her battle against cancer and now help others to navigate the medical cannabis maze.