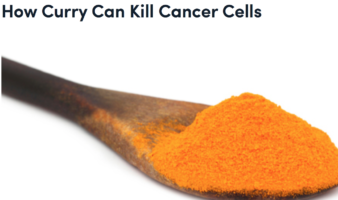 Turmeric Curcumin Reprogramming Cancer Cell Death
This entry was posted on January 31, 2018 by The Health Cure.
It is estimated that the human body consists of ten or so trillion cells. Almost all of these cells get turned over within approximately 100 days. That means we're like a new person every three months. We reinvent ourselves physically. And since we're physically made of air, water, and food—those are the only inputs—we are what we eat, literally and physically. In a sense our body has to rebuild itself every three months with the building materials we deliver to it through our stomach. Our mouths are like the access road to the continual construction site of our body. Trucks roll in three times a day. What do we want them to deliver? Some shoddy cheap stuff we scrounged around for or bought at the discount outlets that's just going to fall apart? Or do we want to build our foundation solid? We are each walking inside the greatest known architectural structures in the universe. Let's not ruin such grand blueprints by consuming crap.
We only own the biological real estate we're born with, so if we need to rebuild every three months, we also need a wrecking crew. If we're replacing ten trillion cells every hundred days, that means we have to kill off about 100 billion cells every day. Out with the old, in with the new.
We do that primarily through "apoptosis," pre-programmed cell death (from the Greek ptosis, meaning "falling", and apo, "away from"). For example, we all used to have webbed fingers and toes. Literally. Each one of us did in the womb until about four months, when apoptosis kicked in, and the cells in the webbing kill themselves off to separate our fingers.
Source: Care2.com
Posted By The Health Cure, January 31 2018
Tags; cancer cure - Cannabidiol - Cannabidol - Cannabis - CBD - CB1 - CB2 - Cure Tremor - Interview - Hemp oil - medicinal marijuana - Parkinson - phoenixtears - Rick Simpson - Run From The Cure - Testimonials - the health cure - epilepsy - tremors - Treatment - Breast Cancer - Lung Cancer - Epidemic - Healthy - Healthy Life - Enjoy - Happiness - Cannabinoids - Health Center - Nature - Nature Cure - Sacred Plant - Curcuma - Curcumine