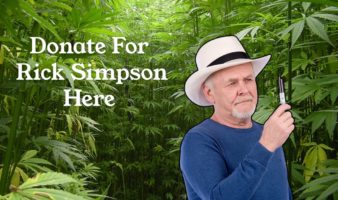 The Health Cure Calls People To Do A Donation For Rick Simpson
This entry was posted on November 23, 2020 by The Health Cure.
Recently we received the message that Rick Simpson has suffered a stroke in 2018. At the moment he is doing well.
In the early 2000's, Rick Simpson helped a lot of people who had all kinds of health complaints and problems. He rediscovered and made the cannabis oil for these people. He also made a documentary of his work. In the film Run From The Cure Rick shows that he helped a lot of people with the Cannabis Oil to cure cancer and multiple diseases. The film became a great success and Rick decided to go on his adventure to inform the world about the healing miracles of this healing plant.
He traveled all over the world to give lectures and presentations.
Rick never accepted money for his contribution to produce and give cannabis oil to the people who needed it to heal their disease.
Without his knowledge he has given us and the world we would never have been able to do this work. So we are very grateful to Rick Simpson that he was able to do this so that we also were able to help a lot of people worldwide.
Therefore, we ask our visitors and clients to support Rick to make a donation. Go see his video or click on the link to follow the instructions.
Thank you very much.
https://www.gofundme.com/f/support-rick-simpson?fbclid=IwAR21McOGrXbv0SX9aiZg725XffWnEKBEmGI2Q-S1r0_hR5boMPPc_wVW_WM