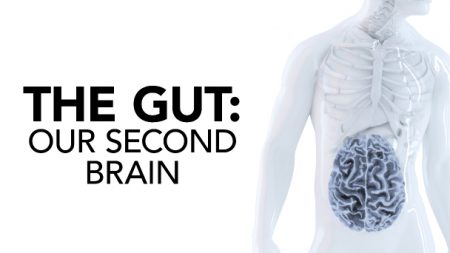 The Gut: Our Second Brain
This entry was posted on December 18, 2022 by The Health Cure.
Scientists have known about the existence of another brain within the human body for many years – billions of connected neurons, molecules (neurotransmitters) that transmit orders and induce independent reactions. This network of neurons they call the second brain, or "brain down below," is none other than our stomach.
It can function totally independently and it's more than a digestive system - it's an enteric nervous system. It reigns over a spectacular colony of one hundred thousand billion gut microbiota (our gut flora or gut microbiome) whose activity is thought to have an impact on more than just our gastrointestinal functions — it also affects our immune systems, mental health, personalities, and even central nervous systems.
Even more astonishing: certain diseases of the brain, like Parkinson's disease, for example, could stem from the degeneration of our intestinal neurons. We could even treat the colon's inflammatory response to colitis, irritable bowel syndrome (IBS) stomach pains, and more. All these major gut health discoveries have revolutionized our approach to an organ that was previously considered to be dull and passive. The stomach's intelligence is fascinating research teams the world over as new research comes to light. Explore the gut-brain connection and the key role it plays in our well-being.
Tags; The Health Cure, The Health Cure Netherlands, The Health Cure UK, The Health Cure France, RSO Oil, Medicinal Cannabis, Rick Simpson, Run From The Cure, Cancer Cure, Cancer Cells, Cannabis, Marijuana, Cannabisoil, Forbidden Cure, Medicine, Cure all, Cannabinoids, CBD, Cannabidiol, Parkinson, Multiple Sclerosis, Seizures, Documentary, Testimonials, THC Oil Cures Cancer, Parkinsons, Tremors, Cannabis Oil Cures Cancer, Hemp Oil Cures Cancer, Endocannabinoids, Medical Cannabis, CBG, Skin cancer, Hemp-cream, THC Cream, healing paths, clinical healing, hypnosis and regression, The Health Cure since 2009, Ayahuasca Medicine, DMT, Shaman, Nature, Grounding, Earthing, www.thehealthcure.org, Dogs, Cats, Horses, All Pets, Endo cannabinoids System, Alzheimer, phoenix-tears, Liver Cancer Stage 4, Breast Cancer, Energy, Qi Gong, shaman, Sage, shamanic healing, Ayahuasca, Healing Plants, Grounding, MMS, Jim Humble, Miracle Mineral Supplement, Rewired, Dr. Joe Dispenza, Gaia, Series, microdosing psilocybin, Mindfulness, Sleep, Plant medicine, Paleo Lifestyle, Qigong, Chinese Healing, Shamanism, Yoga, Yogic Path, Spiritual, Love, Ancient Knowledge, Pain, Healthy Lifestyle, Nutrition, Documentary, Superfood, Healthy Foods,
Parkinson's, Placebo, Nervous System, Mind Body Healing, Quantum Leap, Nature Of Reality, Mind Body Healing, Subconscious Mind, Energy Healing, Life-force, Wellbeing, Love, Peace, Joy, Alive, Gaia, Ickonic, Bruce Lipton, Deepak Chopra, Dr. Joe Dispenza, Gregg Braden, Randy Veitenheimer, Dr. Wayne Dyer, Eckhart Tolle, Sound of Creation, Geometry, Frequency, Medical Intuition, Sacred Power, Secrets Of Sleep, Awake, Insomnia, Narcolepsy, Retreats, Retreat, Reiki, Quantum Touch, Meditation, Affirmations, Energy & Vibration, Balance, Abundance, Change Your Thoughts, Change Your Life , Gratitude, Letting Go, Subconscious Mind