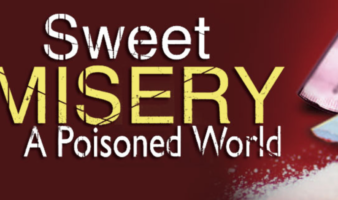 Sweet Misery: A Poisoned World
This entry was posted on October 8, 2022 by The Health Cure.
Aspartame is an artificial sweetener, an additive. And it's a chemical. It's not a natural product, it's a chemical. The molecule is made up of three components. Two are amino acids, the so-called building blocks of protein.
Aspartame (E951) used in over 6000 products. The food industry claims that aspartame helps in losing weight, but why is obesity then becoming such an ever increasing problem?
Aspartame is a very sweet chemical, responsible for a host of health problems such as obesity, diabetes, MS, epilepsy, cancer, brain disorders, migraines, ADHD, etc.
One is called Phenylalanine, which is about 50% of the molecule and the other is Aspartic Acid, which is like 40%. And the other 10% is so-called Methyl Ester, which as soon as it's swallowed becomes free methyl alcohol. Methanol. Wood alcohol, which is a poison. A real poison.
Excellent documentary showing how dangerous artificial sweetner Aspartame is. From its history, to its effects this video is enough to shock anyone into really looking at the food labels next time they shop. Aspartame is a toxic food that came into the world as an investment by Donald Rumsfeld, while ignoring the deadly effects the tests showed. Take a good look at this video, it could save lives.
The Health Cure, Medicinal Cannabis, Rick Simpson, Run From The Cure, Cancer Cure, Cancer Cells, Cannabis, Marijuana, Cannabisoil, Forbidden Cure, Medicine, Cure all, Cannabinoids, CBD, Cannabidiol, Parkinson, Multiple Sclerosis, Documentary, Testimonials, THC Oil Cures Cancer, Cannabis Oil Cures Cancer, Hemp Oil Cures Cancer, Endocannabinoids, Medical Cannabis, CBG, Skin-cancer, Hemp-cream, THC Cream, healing paths, clinical healing, hypnosis and regression, Energy Healing, The Health Cure since 2009, Ayahuasca Medicine, DMT, Shaman, Nature, Grounding, Earthing, Monsanto, MSG, GMO, Genetic Modified Food, Genetically Modified Crops, War On Health, Codex Alimentarius, FDA, Joe Dispenza, Supernatural Mind