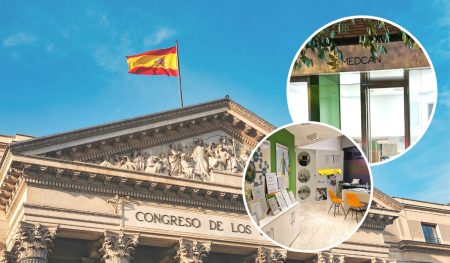 Medicinal cannabis in Spain: inside the country's first 'cannabis clinic'
This entry was posted on January 10, 2023 by The Health Cure.
With draft regulations for the legalisation of medicinal cannabis in Spain expected imminently, we explore the existing grey market and meet those bridging the gap to help patients access the treatment safely.
Last year the Spanish government took a significant step towards legalising medicinal cannabis for a number of health conditions through the country's public health system.
A bill introduced by The Spanish Socialist Workers' Party was given the green light from parliament in June. It aims to allow access to medical cannabis through hospitals and health centre pharmacies via medical specialists for a number of different conditions, including endometriosis and multiple sclerosis-related pain, epilepsy and symptoms related to chemotherapy and cancer pain.
Hope is on the horizon for more than three million people who are thought to use cannabis for medicinal purposes in Spain.
Cannabis in Spain is a grey area.
Personal possession and cultivation of the plant are largely decriminalised, but regulations and interpretations of the law can vary throughout the municipalities, and the sale and importation of any quantity of cannabis containing THC is a criminal offence.
Only around six companies have been issued with licences from the Spanish Agency of Medicines and Medical Products (AEMPS) to produce medical cannabis for export to other European countries, while 15 hold research and development licences.
In tourism hotspots such as Barcelona, visitors queue up to join 'cannabis clubs', located behind unassuming doors around the city. Once inside they can peruse a menu of strains such as 'orange crush' and 'Zkittlez' and order hot chocolates or ice tea to sip while they smoke.
Meanwhile patients have no access to legal, regulated products that are prescribed under the guidance of a health professional. Some patients turn to these clubs and user associations, which have gradually cropped up throughout the country since 1991. However, their legal status is uncertain and in other cities and more rural areas they can be difficult to access and are policed more forcefully.
Still work to do for medical access in Spain
The AEMPS is currently working on finalising regulations, with draft proposals expected to be published in the coming weeks, according to local media. However, some Spanish cannabis advocates believe patients may not see widespread access to these products until late 2023.
Carola Perez is president of non-profit organisation The Spanish Observatory for Medical Cannabis [Observatorio Español del Cannabis Medicinal](OECM), which was established in the country in 2015 to advocate for the medicinal properties of cannabis and its derivatives.
She told Cannabis Health: "It is looking like the [plans for legalisation] will go ahead in 2023. We have been in private conversations with the AEMPS, trying to push as hard as we can in order to get the most widespread programme, but there are still a lot of negotiations to be done.
"To be honest, I don't think it will be until the second half of 2023 at least that we are going to see the first patient with an oil. We still have a lot of work to do. We are not a priority for the Spanish government."
Ms Perez believes that the majority of patients are buying online, off the street, or relying on friends and family to grow for them.
"Clubs can be a good place to go, because it's better than the streets, but they are not the main providers of cannabis for patients," she says.
"Cannabis clubs are most prominent in Barcelona, Ibiza and Majorca, where there is a lot of tourism and the club culture is so open there, but it is not the same elsewhere in the country. Where I am based in Madrid, the clubs open and close a lot; they are so afraid and they don't let people in so easily. There is a lot of stress for patients."
Spain's first 'medical cannabis clinic'
Also of concern is the lack of medical guidance. Patients currently have no access to support from clinicians, and the staff working in the clubs are not trained in dosing or pharmacological interactions.
In a bid to tackle this unmet need, Dr Josep Sanchez opened Spain's first medical cannabis clinic in Barcelona in 2017, having founded Kalapa, a medical cannabis consultancy service for patients, two years earlier. He estimates that in Catalonia, the Basque Country, and more recently Seville, as many as up to 40% of patients access cannabis through social clubs and associations.
The Medcan Clinic operates out of a regulatory 'loophole'; it is, first and foremost, a health clinic but it also holds a cannabis association licence. The doctors at the clinic do not prescribe any products to the patients who come through its doors; rather, they offer guidance under a harm reduction approach.
"The Spanish government is not concerned with the medical usage of cannabis. What they're concerned about is everything else, for example production, distribution and sale," explains David Bertand Rankin, an autistic patient and external consultant for Medcan, who moved to Barcelona from Colorado in 2016.
"What is keeping us safe are the licences that we are operating under, but we don't prescribe anything, we just guide."
The clinic has helped around 10,000 patients since it opened, with 1,400 currently enrolled. The majority of these are already consuming cannabis for a medical condition without clinical supervision, often containing high levels of THC.
A harm reduction approach
"Most of the people who come here are already accessing cannabis to treat their conditions through the dark market but often take other medication and pharmaceuticals as well. They come to get an idea of potential reactions between the cannabinoids with these medications, as well as other pathologies," continues Mr Bertand Rankin.
"None of this exists in the cannabis associations. Our intention is very much about harm reduction for the patients who are using it. We are in contact with senior health ministers and help them with the information we gather here."
Sometimes CBD manufacturers will donate products to the clinic for patients to trial, under the guidance of lead clinician Dr Bryan Peguero Gomez, who trained and specialised in cannabis medicine in Australia.
Dr Peguero Gomez advises on dosages and pharmacological interactions and keeps a track of key information such as cannabinoid concentrations and the effect products have on a patient's symptoms.
"CBD is the only thing that we can legally sell," adds Mr Bertand Rankin.
"We work with manufacturers in Spain and have a close relationship with the AEMPS. We are trying to set the standard for the formal regulation of cannabis in Spain."
As well as providing general guidance for patients, Dr Peguero Gomez supports those who come to the clinic with substance use issues or cannabis use disorder.
"Often patients consume products containing a high amount of THC and very low amounts of CBD, which are the characteristics of the market," he explains.
"I try to encourage them to reduce their consumption of THC where necessary. We often see people struggling with substance addictions, to cannabinoids as well as opioids, benzodiazepines and other pharmaceutical drugs."
The team have also been working with palliative care teams across Spain to support patients who are receiving end-of-life care.
Dr Peguero Gomez, who is an epilepsy patient himself, says his neurologist was sceptical about his consumption of CBD, despite him seeing a positive effect on his symptoms.
He joined Medcan with a belief that medical professionals need to listen to the experiences and perspectives of patients more.
"[Conventional] medicine is very robotic for me. It's just a case of 'take this pill'," he says.
"I saw another way of treating patients, and what I like about this kind of medicine is that not every patient reacts the same to the treatment; everybody is different.
"You learn that medicine is wrong in many respects. Most of the time, as doctors, we think we know everything and this is not true. We have to hear the patients as well. That's why they searched on the black market because nobody was there for them."
He adds: "But very few doctors in Spain are open to cannabis."
Improving education and understanding of cannabis in Spain
In a bid to tackle the lack of education and understanding of cannabis-based medicine among Spanish healthcare professionals, Medcan has recently begun offering courses to healthcare professionals and employees of cannabis associations, on its therapeutic potential and how to take a harm reduction approach.
It is also working with two universities to help build the evidence base on the safety and efficacy of cannabis and regularly meets with investors to discuss the funding of much-needed clinical trials.
The OECM is also keen to see more widespread training and education for healthcare professionals, particularly as the new legislation is rolled out.
"If we don't train doctors and pharmacists properly, it is going to be such a mess, as we have seen happen in so many other countries," says Ms Perez, who is also the chair of the International Association of Cannabinoid Medicines Patient Council, which supports patients facing similar issues across the world.
"I would love things to be solved and for patients to have access to proper relief from cannabis, but patients are not going to wait, and [in the meantime] we will continue supporting and advocating for them."
On the right track
While widespread access to cannabis medicines may still be several months off, Dr Sanchez is already anticipating the role that Medcan might play under the new regulations.
He recently opened a second facility in Seville, with plans for a network of clinics and consultancies across the country where patients can be referred by pharmacists and healthcare professionals, and policymakers can access information and guidance.
Dr Sanchez would like to see Spain take a similar approach to other European countries with the development of an access scheme or an observational study such as Project Twenty21 in the UK.
"I hope that the regulation of the legal market is done correctly and that we can move many people away from buying on the street to be able to buy regulated products from quality and traceable cannabis that right now we do not have," he says.
"I think the impact will be great because Spain already has a large market, although this market is in a grey area at the moment."
Dr Sanchez adds: "I have fought a large part of my life, risking my freedom to defend the therapeutic use of cannabis. The more people have access to it the better.
"It will help to reduce the use of other much more harmful chemicals and [enable us] to work with new, more effective methods on pathologies that currently have no correct solution. Therefore, although slow, it seems that we are on the right track."
---
The Health Cure has more than 13 years of experience in the field of health, various plant medicines and lifestyle.
Already able to help tens of thousands of people all over the world with plant medicines such as Graviola, Kava, Cannabis THC/CBD oil and other Cannabinoids and various holistic therapeutic treatments. At the health centre, The Health Cure runs courses in lifestyle, education in mindfulness. Also for different retreats. Contact The Health Cure for information.
Tags; The Health Cure, The Health Cure Netherlands, The Health Cure UK, The Health Cure France, RSO Oil, Medicinal Cannabis, Rick Simpson, Run From The Cure, Cancer Cure, Cancer Cells, Cannabis, Marijuana, Dr. Cristina Sanchez, Cannabis oil, Forbidden Cure, Medicine, Cure all, Cannabinoids, CBD, Cannabidiol, Parkinson, Multiple Sclerosis, Seizures, Documentary, Testimonials, THC Oil Cures Cancer, Parkinsons, Tremors, Cannabis Oil Cures Cancer, Hemp Oil Cures Cancer, Endocannabinoids, Medical Cannabis, CBG, Skin cancer, Hemp-cream, THC Cream, healing paths, clinical healing, hypnosis and regression, The Health Cure since 2009, Ayahuasca Medicine, DMT, Shaman, Nature, Grounding, Earthing, www.thehealthcure.org, Dogs, Cats, Horses, All Pets, Endo cannabinoids System, Alzheimer, phoenix-tears, Liver Cancer Stage 4, Breast Cancer, Energy, Qi Gong, shaman, Sage, shamanic healing, Ayahuasca, Healing Plants, Grounding, MMS, Jim Humble, Miracle Mineral Supplement, Rewired, Dr. Joe Dispenza, Gaia, Series, micro-dosing psilocybin, Mindfulness, Sleep, Plant medicine, Paleo Lifestyle, Qigong, Chinese Healing, Shamanism, Yoga, Yogic Path, Spiritual, Love, Ancient Knowledge, Pain, Healthy Lifestyle, Nutrition, Documentary, Superfood, Healthy Foods, Lifestyle,
Parkinson's, Placebo, Nervous System, Mind Body Healing, Quantum Leap, Nature Of Reality, Mind Body Healing, Subconscious Mind, Energy Healing, Life-force, Wellbeing, Love, Peace, Joy, Alive, Gaia, Ickonic, Bruce Lipton, Deepak Chopra, Dr. Joe Dispenza, Gregg Braden, Randy Veitenheimer, Dr. Wayne Dyer, Eckhart Tolle, Marcel Messing, Sound of Creation, Geometry, Frequency, Medical Intuition, Sacred Power, Secrets Of Sleep, Awake, Insomnia, Narcolepsy, Retreats, Retreat, Reiki, Quantum Touch, Meditation, Affirmations, Energy & Vibration, Balance, Abundance, Change Your Thoughts, Change Your Life , Gratitude, Letting Go, Subconscious Mind, Chakras, Energy Wheels, Acsension