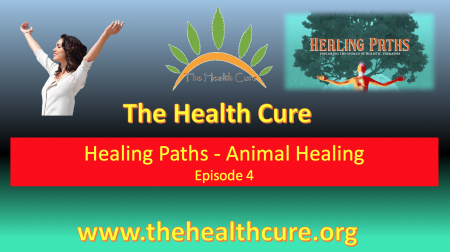 Healing Paths - Animal Healing (Episode 4)
This entry was posted on September 27, 2022 by The Health Cure.
When humans are in need, we have the capacity to call out to one another for assistance but animals, unlike us, don't have this luxury. This begs the question - how do animals communicate the need for assistance? In episode 4 of Healing Paths, we take an in-depth look into the area of animal healing.
Tags: The Health Cure, Medicinal Cannabis, Rick Simpson, Run From The Cure, Cancer Cure, Cancer Cells, Cannabis, Marijuana, Cannabisoil, Forbidden Cure, Medicine, Cure all, Cannabinoids, CBD, Cannabidiol, Parkinson, Multiple Sclerosis, Documentary, Testimonials, THC Oil Cures Cancer, Cannabis Oil Cures Cancer, Hemp Oil Cures Cancer, Endocannabinoids, Medical Cannabis, CBG, Skincancer, Hempcream, THC Cream, healing paths, clinical healing, hypnosis and regression, Energy Healing
Tags: The Health Cure, Medicinal Cannabis, Rick Simpson, Run From The Cure, Cancer Cure, Cancer Cells, Cannabis, Marijuana, Cannabisoil, Forbidden Cure, Medicine, Cure all, Cannabinoids, CBD, Cannabidiol, Parkinson, Multiple Sclerosis, Documentary, Testimonials, THC Oil Cures Cancer, Cannabis Oil Cures Cancer, Hemp Oil Cures Cancer, Endocannabinoids, Medical Cannabis, CBG, Skincancer, Hempcream, THC Cream, healing paths, clinical healing, hypnosis and regression, Energy Healing