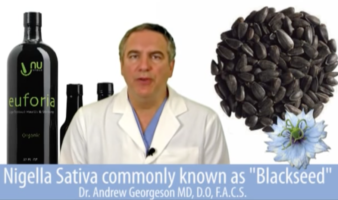 Dr Drew discusses Blackseed (Nigella Sativa)
This entry was posted on January 31, 2018 by The Health Cure.
Black Seed (scientific name: Nigella Sativa) is known around the world and throughout history for its restorative and medicinal qualities. Truly Black Seed is one of nature's greatest gifts, and that is probably why it is referred to as the "seed of blessing." The ancient Egyptians and Assyrians recognized the power of this healing herb as early as 3000 years ago. Found in the tomb of Tutankhamen, "King Tut", Black Seed was thought to help the Pharaohs in the afterlife. Physicians as far back as the 1st century used Black Seed to treat a variety of ailments and sicknesses.
Black Seed grows wild in the Mediterranean but has been cultivated in the Arabian Peninsula, Asia and Africa. It's oil, which has a rich composition of more than 100 compounds including essential fatty acids, vitamins, and minerals.
Black Seed is remarkable in that it is one of the few natural, herbal remedies that has been studied by the scientific community and found to have tremendous potential benefit. Today, more and more medical scientists and professionals are recognizing the power of this amazing little seed. It was recently recommended as an herbal remedy by the World Health Organization. Research continues to show the positive results of Black Seed, and it continues to generate excitement throughout the medical industry.
Black Seed it not commonly found in liquid nutrition products. NuVerus is the first company we know of to focus on this remarkable SuperFood. The Oil of the Black Seed has a strong pepper flavor, which explains why all the other products on the market have excluded it. NuVerus has used advanced manufacturing techniques to combine the Black Seed Oil in a delicious and comprehensive formula with SuperFoods from around the world.
Source: Youtube
Posted By The Health Cure, January 31 2018
Tags; cancer cure - Cannabidiol - Cannabidol - Cannabis - CBD - CB1 - CB2 - Cure Tremor - Interview - Hemp oil - medicinal marijuana - Parkinson - phoenixtears - Rick Simpson - Run From The Cure - Testimonials - the health cure - epilepsy - tremors - Treatment - Breast Cancer - Lung Cancer - Epidemic - Healthy - Healthy Life - Enjoy - Happiness - Cannabinoids - Health Center - Nature - Nature Cure - Sacred Plant - Black Seed Oil - Black Cumin Oil