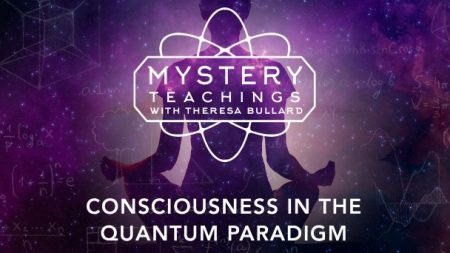 Consciousness in the Quantum Paradigm (Episode 1)
This entry was posted on December 8, 2022 by The Health Cure.
Learn a deeper universal truth about who we are and our spiritual connection with the universe. Theresa Bullard introduces us to the quantum paradigm by relaying the four principles that govern all quantum phenomena and how we can apply them to our lives. These are reflected in the Hermetic principles, as documented in the Kybalion, and being proven out by new scientific discoveries; reaffirming that consciousness is an essential part of all that is.
Tags; The Health Cure, The Health Cure Netherlands, The Health Cure UK, The Health Cure France, RSO Oil, Medicinal Cannabis, Rick Simpson, Run From The Cure, Cancer Cure, Cancer Cells, Cannabis, Marijuana, Cannabisoil, Forbidden Cure, Medicine, Cure all, Cannabinoids, CBD, Cannabidiol, Parkinson, Multiple Sclerosis, Seizures, Documentary, Testimonials, THC Oil Cures Cancer, Parkinsons, Tremors, Cannabis Oil Cures Cancer, Hemp Oil Cures Cancer, Endocannabinoids, Medical Cannabis, CBG, Skin cancer, Hemp-cream, THC Cream, healing paths, clinical healing, hypnosis and regression, The Health Cure since 2009, Ayahuasca Medicine, DMT, Shaman, Nature, Grounding, Earthing, www.thehealthcure.org, Dogs, Cats, Horses, All Pets, Endo cannabinoids System, Alzheimer, phoenix-tears, Liver Cancer Stage 4, Energy, Qi Gong, shaman, Sage, shamanic healing, Ayahuasca, Healing Plants, Grounding, MMS, Jim Humble, Miracle Mineral Supplement, Rewired, Dr. Joe Dispenza, Gaia, Series, microdosing psilocybin, Mindfulness, Sleep, Plant medicine, Paleo Lifestyle, Qigong, Chinese Healing, Shamanism, Yoga, Yogic Path, Spiritual, Love, Ancient Knowledge, Pain
Parkinson's, Placebo, Nervous System, Mind Body Healing, Quantum Leap, Nature Of Reality, Mind Body Healing, Subconscious Mind, Energy Healing, Life-force, Wellbeing, Love, Peace, Joy, Alive, Gaia, Ickonic, Bruce Lipton, Deepak Chopra, Dr. Joe Dispenza, Gregg Braden, Randy Veitenheimer, Sound of Creation, Geometry, Frequency, Medical Intuition, Sacred Power