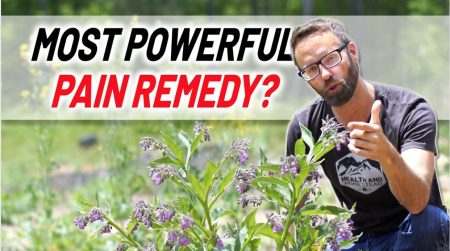 Comfrey Salve For Arthritis, Back and Joint Pain, Old Injuries etc.
This entry was posted on March 31, 2023 by The Health Cure.
Medical comfrey in general
Medical Comfrey is an ancient herb that has been used for medicinal purposes for over 2,000 years. It is a large plant, growing up to 4 feet tall, with broad leaves that are covered in small hairs. It is native to Europe and Asia but has been naturalized in other parts of the world. The scientific name for medical comfrey is Symphytum officinale.
Medical comfrey is known for its powerful healing properties. It contains allantoin, a compound that stimulates cell growth and regeneration. This makes it beneficial for treating a variety of conditions, including burns, bruises, cuts, and wounds. It is also effective in treating skin conditions such as eczema, psoriasis, and acne.
Medical comfrey is also used to reduce inflammation and relieve pain. It has been shown to be effective in treating arthritis, sprains, strains, and other musculoskeletal injuries. This is due to its anti-inflammatory properties, which help to reduce swelling and ease pain.
One of the great benefits of medical comfrey is that it is easy to use. The leaves and roots can be made into a tea, tincture, or poultice. A tea can be made by steeping 1-2 teaspoons of dried comfrey leaves or roots in a cup of boiling water for 10-15 minutes. A tincture can be made by steeping fresh or dried comfrey in alcohol for several weeks. A poultice can be made by crushing fresh or dried comfrey leaves and applying them directly to the affected area.
It is important to note that while medical comfrey has many benefits, it should always be used with caution. Comfrey contains pyrrolizidine alkaloids, which can be harmful to the liver in high doses. It is recommended that comfrey not be taken internally for prolonged periods of time or in large doses.
Medical comfrey is a powerful herb with many healing properties. It has been used for centuries to treat a variety of conditions, and modern research has shown that it can be effective in reducing inflammation, relieving pain, and promoting healing. While it should be used with caution, when used properly, it can be a valuable addition to any natural health regimen.
Comfrey Ointment/Salve
Comfrey ointment, also known as symphytum officinale, is a natural remedy that has been used for centuries to promote wound healing and reduce inflammation. Comfrey belongs to the Boraginaceae family and is a perennial herb that is native to Europe but has now spread to other parts of the world. Traditionally, comfrey plant leaves were boiled or crushed to make poultices or ointments, which were then applied topically to treat bruises, sprains, fractures, and other musculoskeletal injuries.
The natural healing properties of comfrey come from its high content of allantoin, an organic compound that stimulates cell proliferation and regeneration. Allantoin is found in the cell walls of comfrey leaves and roots and is released when the plant tissue is crushed, heated, or steeped in oil. When applied to the skin, allantoin enhances the production of collagen and elastin, two proteins that are essential for healthy skin and connective tissue. This leads to faster healing of cuts, scrapes, burns, and other wounds.
One of the main benefits of comfrey ointment is its ability to heal bone fractures and promote bone growth. Studies have shown that allantoin accelerates the formation of osteoblasts, the cells that build new bone tissue. When comfrey is applied to a broken bone or joint, it can reduce inflammation and pain, as well as speed up the natural healing process. In fact, comfrey has been used as a natural remedy for fractures since ancient times, and is still used today by natural health practitioners.
Another advantage of comfrey ointment is its ability to reduce inflammation and pain in soft tissue injuries. When applied to sprains, strains, and muscle tears, the ointment can help to reduce swelling and facilitate the repair of damaged tissue. This is due to the anti-inflammatory properties of allantoin, which help to suppress the production of cytokines and other inflammatory mediators. In addition, comfrey contains rosmarinic acid, another natural anti-inflammatory agent that can further reduce pain and inflammation when applied topically.
However, it should be noted that comfrey should never be ingested, as it contains pyrrolizidine alkaloids, which can be toxic to the liver when consumed in high doses. Therefore, comfrey should only be used externally as a topical ointment or poultice.
In conclusion, comfrey ointment is a natural healing remedy that has been used for centuries to promote wound healing, reduce inflammation, and alleviate pain. Its high content of allantoin and rosmarinic acid make it an effective treatment for fractures, sprains, muscle tears, and other musculoskeletal injuries. While comfrey should be used with caution due to its potential toxicity, when used externally, it is a safe and effective natural remedy for a variety of health conditions.
---
The Health Cure has more than 13 years of experience in the field of health, various plant medicines and lifestyle.
Already able to help tens of thousands of people all over the world with plant medicines such as Graviola, Kava, Cannabis THC/CBD oil and other Cannabinoids and various holistic therapeutic treatments. At the health centre, The Health Cure runs courses in lifestyle, education in mindfulness. Also for different retreats. Contact The Health Cure for information.
Tags; The Health Cure, The Health Cure Netherlands, The Health Cure UK, The Health Cure France, RSO Oil, Medicinal Cannabis, Rick Simpson, Run From The Cure, Cancer Cure, Cancer Cells, Cannabis, Marijuana, Dr. Cristina Sanchez, Cannabis oil, Forbidden Cure, Medicine, Cure all, Cannabinoids, CBD, Cannabidiol, Parkinson, Multiple Sclerosis, Seizures, Documentary, Testimonials, THC Oil Cures Cancer, Parkinsons, Tremors, Cannabis Oil Cures Cancer, Hemp Oil Cures Cancer, Endocannabinoids, Medical Cannabis, CBG, Skin cancer, Hemp-cream, THC Cream, healing paths, clinical healing, hypnosis and regression, The Health Cure since 2009, Ayahuasca Medicine, DMT, Shaman, Nature, Grounding, Earthing, www.thehealthcure.org, Dogs, Cats, Horses, All Pets, Endo cannabinoids System, Alzheimer, phoenix-tears, Liver Cancer Stage 4, Breast Cancer, Energy, Qi Gong, shaman, Sage, shamanic healing, Ayahuasca, Healing Plants, Grounding, MMS, Jim Humble, Miracle Mineral Supplement, Rewired, Dr. Joe Dispenza, Gaia, Series, micro-dosing psilocybin, Mindfulness, Sleep, Plant medicine, Paleo Lifestyle, Qigong, Chinese Healing, Shamanism, Yoga, Yogic Path, Spiritual, Love, Ancient Knowledge, Pain, Healthy Lifestyle, Nutrition, Monsanto, Documentary, Superfood, Healthy Foods, Lifestyle,
Parkinson's, Placebo, Nervous System, Mind Body Healing, Quantum Leap, Nature Of Reality, Mind Body Healing, Subconscious Mind, Energy Healing, Life-force, Wellbeing, Love, Peace, Joy, Alive, Gaia, Ickonic, Bruce Lipton, Deepak Chopra, Dr. Joe Dispenza, Gregg Braden, Randy Veitenheimer, Dr. Wayne Dyer, Eckhart Tolle, Marcel Messing, Sound of Creation, Geometry, Frequency, Medical Intuition, Sacred Power, Secrets Of Sleep, Awake, Insomnia, Narcolepsy, Retreats, Retreat, Reiki, Quantum Touch, Meditation, Affirmations, Energy & Vibration, Balance, Abundance, Change Your Thoughts, Change Your Life , Gratitude, Letting Go, Subconscious Mind, Chakras, Energy Wheels, Acsension
DISCLAIMER:

The information provided by The Health Cure, its parents or affiliates ("we," "us" or "our") on www.thehealthcure.org (the "Site"), including this Blog, is for general informational purposes only. All information on the Site is provided in good faith, however we make no representation or warranty of any kind, express or implied, regarding the accuracy, adequacy, validity, reliability, availability or completeness of any information on the Site. The views and opinions expressed in this Blog are those of the authors and do not necessarily our official policy or position of any other agency, organization, employer or company. Assumptions made in the blogs are not reflective of the position of any entity other than the author(s) – these views are always subject to change, revisions, and updates at any time. There is no obligation to purchase any product mentioned. The Site may contain (or you may be sent through the Site links to other websites or content belonging to or originating from third parties or links to websites and features in banners or other advertising. Such external links are not investigated, monitored, or checked for accuracy, adequacy, validity, reliability, availability or completeness by us. We do not warrant, endorse, guarantee, or assume responsibility for the accuracy or reliability of any information offered by third-party websites linked through the site or any website or feature linked in any banner or other advertising. We will not be a party to or in any way be responsible for monitoring any transaction between you and third-party providers of products or services. The Site cannot and does not contain medical or health advice. The medical or health information is provided for general informational and educational purposes only and is not a substitute for professional advice. Accordingly, before taking any actions based upon such information, we encourage you to consult with the appropriate professionals. We do not provide any kind of medical or health advice. The use or reliance of any information contained on this site is solely at your own risk.