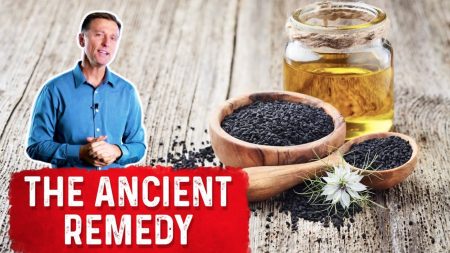 Ancient Medicine: Black Seed Oil's 21 Powerful Health Benefits
This entry was posted on March 9, 2023 by The Health Cure.
Also known as cumin or caraway seed, black seed (Nigella sativa) has been used for over 2000 years and is viewed as a healing wonder, with research suggesting that it could be helpful in fighting illnesses of all kinds. Over 600 peer-reviewed studies prove that this amazing little seed has more than 20 'pharmacological actions' on the body when taken in food or as a supplement. Yes, black seed oil benefits are plentiful, and you will learn about them here.
The earliest medicinal application of black seed is traced back to ancient Egypt. The Assyrians there called black seed "tin tir" and ingested it to cure stomach problems. Externally, they used it to treat the eyes, nose, and mouth, and for skin inflammations such as rashes, bites, and sores. The Egyptians called it a panacea, and a bottle of it was even found in Tutankhamen's tomb.
Nigella Sativa has (Minimally) These Pharmacological Actions on the Body
1. Analgesic (pain-killing)
2. Anti-bacterial
3. Anti-ulcer
4. Anti-inflammatory
5. Antihistamine
6. Anti-cancer
7. Anti-cholinergic
8. Anti-fungal
9. Anti-hypertensive
10. Antioxidant
11. Antispasmodic
12. Antiviral
13. Bronchodilator
14. Gluconeogenesis inhibitor (anti-diabetic)
15. Hepatoprotective (liver protecting)
16.Hypotensive
17. Insulin sensitizing
18. Interferon inducer
19. Leukotriene antagonist
20. Renoprotective (kidney protecting)
21. Tumor necrosis factor alpha inhibitor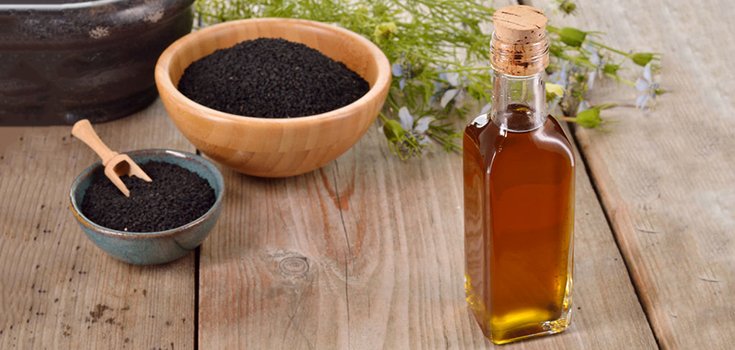 Just a few highlights of the many black seed oil benefits on health include:
There are three natural phytochemical compounds in black seed oil that produce a tremendous benefit that researchers were very surprised to discover. The three compounds are thymoquinone (TQ), thymohydroquinone (THQ), and thymol. Scientists learned that all three compounds show 100% inhibition for 30 different pathogens that were evaluated; TQ was the best anti-fungal compound against dermatophytes and yeasts, and thymol was the best anti-fungal against mold.
Phytochemicals in black seed help protect against cancer. Croatian scientists evaluated the antitumor activity of thymoquinone and thymohydroquinone in mice and discovered that the two phytochemicals in black seed oil resulted in a 52% decrease in tumor cells! Being rich in these important phytonutrients, black seed works to fend off cancer through a variety of mechanisms:
Anti-proliferation
Apoptosis induction
Cell cycle arrest
Reactive oxygen species generation
Anti-metastasis
Anti-angiogenesis
Chronic administration of Nigella sativa changes pro and anti-inflammatory proteins. The seed may act as a balancing factor on lymphocytes.
Black seed supports liver health. Almost all toxins that affect our bodies, at some point, must go through the liver. The bile from the liver digests fats, and many toxins are stored in fat. Anyone who has taken lots of antibiotics or other medications will also suffer from decreased liver functioning, as the liver becomes over-taxed trying to rid the body of chemical residues. In recent studies, scientists have found that black seed oil prevents damage by providing protection against toxins.
Black seed oil causes "gradual partial regeneration of pancreatic beta-cells, increases the lowered serum insulin concentrations, and decreases the elevated serum glucose," according to an article in the Journal of Endocrinology and Metabolism. The research (on mice) suggests that diabetics could experience support, whether they have type 1 or type 2 diabetes. In another study, two grams of black seed a day results in "reduced fasting glucose, decreased insulin resistance, increased beta-cell function, and reduced glycosylated hemoglobin (HbA1c) in human subjects."
Black seed oil may aid in weight loss. Among black seed oil benefits is the substance's ability to aid in weight loss. The phytochemicals contain anti-obesity properties. Although Nigella sativa is not traditionally believed to treat obesity, it is a wonderful anti-inflammatory agent that helps people lose weight in the same way that it helps diabetics. Specifically, it may decrease weight-gain triggers by controlling appetite, balancing blood glucose levels, helping rid the body of toxins by supporting the liver, and balancing triglycerides. One study says that, in addition to other herbs, Nigella sativa seemed to 'have satisfactory anti-obesity effects.'
Black seed oil can combat methicillin-resistant Staphylococcus aureus (MRSA). While also effective against other infections, black seed oil is especially effective at killing MRSA. As more people experience infections that are resistant to antibiotics, black seed oil just might be the answer to faster, more thorough healing. More research is needed, though.
Nigella sativa helps to lower blood pressure. The use of 100 and 200 mg of black seed extract twice daily for 2 months was found to have a blood pressure-lowering effect in patients with mild hypertension. In just eight weeks, people who used black seed oil experienced profound results.
Post-surgical scar prevention – Tested on areas of post-operative trauma, Nigella sativa was found to protect peritoneal surfaces from scarring or adhesion formation.
Thymoquinone, an extract from black seed oil, was shown to protect neurons against synapse damage, according to a study published in Neuroscience Letters. Thus, Nigella sativa could be therapeutic for people with Parkinson's disease and dementia.
Black seed guards against respiratory ailments. A randomized, placebo-controlled study of chemical war victims was conducted by researchers from Mashhad University of Medical Sciences. The results showed that boiled water extracts of black seed improved pulmonary function test values, reduced respiratory symptoms and chest wheezing, and reduced the need for drug treatment.
Black seed helps people recover from drug addiction. A study of 35 opiate addicts found black seed was an effective therapy in long-term treatment of opioid dependence.
This amazing seed is…well…kind of amazing! Want to read further on black seed health benefits? You can! And if you have any black seed oil benefits to share below, be sure to write a comment – we could have missed something!
Sources:
---
The Health Cure has more than 13 years of experience in the field of health, various plant medicines and lifestyle.
Already able to help tens of thousands of people all over the world with plant medicines such as Graviola, Kava, Cannabis THC/CBD oil and other Cannabinoids and various holistic therapeutic treatments. At the health centre, The Health Cure runs courses in lifestyle, education in mindfulness. Also for different retreats. Contact The Health Cure for information.
Tags; The Health Cure, The Health Cure Netherlands, The Health Cure UK, The Health Cure France, RSO Oil, Medicinal Cannabis, Rick Simpson, Run From The Cure, Cancer Cure, Cancer Cells, Cannabis, Marijuana, Dr. Cristina Sanchez, Cannabis oil, Forbidden Cure, Medicine, Cure all, Cannabinoids, CBD, Cannabidiol, Parkinson, Multiple Sclerosis, Seizures, Documentary, Testimonials, THC Oil Cures Cancer, Parkinsons, Tremors, Cannabis Oil Cures Cancer, Hemp Oil Cures Cancer, Endocannabinoids, Medical Cannabis, CBG, Skin cancer, Hemp-cream, THC Cream, healing paths, clinical healing, hypnosis and regression, The Health Cure since 2009, Ayahuasca Medicine, DMT, Shaman, Nature, Grounding, Earthing, www.thehealthcure.org, Dogs, Cats, Horses, All Pets, Endo cannabinoids System, Alzheimer, phoenix-tears, Liver Cancer Stage 4, Breast Cancer, Energy, Qi Gong, shaman, Sage, shamanic healing, Ayahuasca, Healing Plants, Grounding, MMS, Jim Humble, Miracle Mineral Supplement, Rewired, Dr. Joe Dispenza, Gaia, Series, micro-dosing psilocybin, Mindfulness, Sleep, Plant medicine, Paleo Lifestyle, Qigong, Chinese Healing, Shamanism, Yoga, Yogic Path, Spiritual, Love, Ancient Knowledge, Pain, Healthy Lifestyle, Nutrition, Monsanto, Documentary, Superfood, Healthy Foods, Lifestyle,
Parkinson's, Placebo, Nervous System, Mind Body Healing, Quantum Leap, Nature Of Reality, Mind Body Healing, Subconscious Mind, Energy Healing, Life-force, Wellbeing, Love, Peace, Joy, Alive, Gaia, Ickonic, Bruce Lipton, Deepak Chopra, Dr. Joe Dispenza, Gregg Braden, Randy Veitenheimer, Dr. Wayne Dyer, Eckhart Tolle, Marcel Messing, Sound of Creation, Geometry, Frequency, Medical Intuition, Sacred Power, Secrets Of Sleep, Awake, Insomnia, Narcolepsy, Retreats, Retreat, Reiki, Quantum Touch, Meditation, Affirmations, Energy & Vibration, Balance, Abundance, Change Your Thoughts, Change Your Life , Gratitude, Letting Go, Subconscious Mind, Chakras, Energy Wheels, Acsension
DISCLAIMER:

The information provided by The Health Cure, its parents or affiliates ("we," "us" or "our") on www.thehealthcure.org (the "Site"), including this Blog, is for general informational purposes only. All information on the Site is provided in good faith, however we make no representation or warranty of any kind, express or implied, regarding the accuracy, adequacy, validity, reliability, availability or completeness of any information on the Site. The views and opinions expressed in this Blog are those of the authors and do not necessarily our official policy or position of any other agency, organization, employer or company. Assumptions made in the blogs are not reflective of the position of any entity other than the author(s) – these views are always subject to change, revisions, and updates at any time. There is no obligation to purchase any product mentioned. The Site may contain (or you may be sent through the Site links to other websites or content belonging to or originating from third parties or links to websites and features in banners or other advertising. Such external links are not investigated, monitored, or checked for accuracy, adequacy, validity, reliability, availability or completeness by us. We do not warrant, endorse, guarantee, or assume responsibility for the accuracy or reliability of any information offered by third-party websites linked through the site or any website or feature linked in any banner or other advertising. We will not be a party to or in any way be responsible for monitoring any transaction between you and third-party providers of products or services. The Site cannot and does not contain medical or health advice. The medical or health information is provided for general informational and educational purposes only and is not a substitute for professional advice. Accordingly, before taking any actions based upon such information, we encourage you to consult with the appropriate professionals. We do not provide any kind of medical or health advice. The use or reliance of any information contained on this site is solely at your own risk.