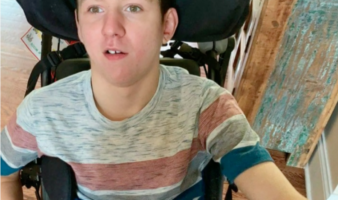 Amazing! The Effects of Cannabis Oil (RSO/FECO) on Cerebral Palsy & Seizure Disorder
This entry was posted on June 2, 2020 by The Health Cure.
The first video is before Peter ever had RSO. The 2nd is 45min later. He begins to regain movement, light comes on in his eyes. This amazing miracle of life you are showing people was able to give his mom some of her boy back. He doesn't wake up im the mid of the night in pain. I was more interested in you knowing what a good thing you have done. Regardless, I really hope you see this, and know you gave me the courage to gain the knowledge to help others where doctors fall short because of $. God Bless. This is another photo of Peter before and after... The same day! He missed his morning RSO dose. He takes it with mango puree via his feeding tube as I showed his Mom 1yr and half ago, but putting it on his gums durring a respiratory attack in the ICU quite possibly saved his life by keeping a 15yr old out of incubation, they often don't come out. When nothing worked she made the doctors wait while she ran to the car for the RSO! Talk about RSO to the rescue. He has also tested no Seizure activity for the first time since EVER as of last month!! I cant get over how this can help so many hurting people... but I wont be a broken record. He is the most beautiful soul with a contagious smile that changed me forever. God Bless this plant, and brave people like You, Peter, and his Mom!
Tags; The Health Cure, Medicinal Cannabis, Rick Simpson, Run From The Cure, Cancer Cure, Cancer Cells, Cannabis, Marijuana, Cannabisoil, Forbidden Cure, Medicine, Cure all, Cannabinoids, CBD, Cannabidiol