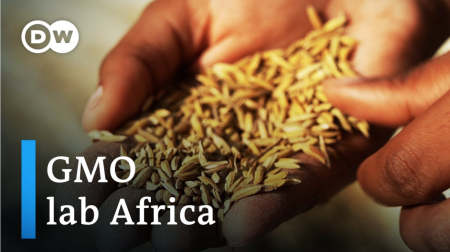 Africa, GMOs and Western interests
This entry was posted on April 27, 2023 by The Health Cure.
Across Africa, lobbyists, philanthropists and businesspeople are working to open up the continent to GMOs. They argue that GMOs can provide a miracle solution to two of Africa's biggest problems: famine and malaria.
One of the main supporters of the movement is Bill Gates, one of the world's wealthiest individuals and founder of the most powerful philanthropic foundation in history. The film shows how the Bill & Melinda Gates Foundation became the main funder of genetic experiments underway on the continent.
Discreetly and beyond the reach of critical voices, scientists are conducting research on the genetic modification of cassava plants and mosquitoes as a solution to the malaria problem.
The role of the EU here is an ambiguous one: Whereas the bloc was initially skeptical about genetic engineering because of the potential risks to health and the environment, now the EU is working together with the Microsoft founder's nonprofit conducting experiments that would be banned in Europe.
Genetic modification in Africa is about power, but it is also about money. And this puts the Bill & Melinda Gates Foundation in the firing line: by financing genetic engineering experiments in Africa, the organization is playing into the hands of big western agribusiness.
"Africa, GMOs and Western Interests" shines a light on the brave new world of philanthrocapitalism, where humanitarian aid has a stubborn aftertaste of business, famine programs are often a pretext to introduce GMOs and public investments can serve private interests.
---
---
The Health Cure has more than 13 years of experience in the field of health, various plant medicines and lifestyle.
Already able to help tens of thousands of people all over the world with plant medicines such as Graviola, Kava, Cannabis THC/CBD oil and other Cannabinoids and various holistic therapeutic treatments. At the health centre, The Health Cure runs courses in lifestyle, education in mindfulness. Also for different retreats. Contact The Health Cure for information.
Tags; The Health Cure, The Health Cure Netherlands, The Health Cure UK, The Health Cure France, RSO Oil, Medicinal Cannabis, Rick Simpson, Run From The Cure, Cancer Cure, Cancer Cells, Cannabis, Marijuana, Dr. Cristina Sanchez, Cannabis oil, Forbidden Cure, Medicine, Cure all, Cannabinoids, CBD, Cannabidiol, Parkinson, Multiple Sclerosis, Seizures, Documentary, Testimonials, THC Oil Cures Cancer, Parkinsons, Tremors, Cannabis Oil Cures Cancer, Hemp Oil Cures Cancer, Endocannabinoids, Medical Cannabis, CBG, Skin cancer, Hemp-cream, THC Cream, healing paths, clinical healing, hypnosis and regression, The Health Cure since 2009, Ayahuasca Medicine, DMT, Shaman, Nature, Grounding, Earthing, www.thehealthcure.org, Dogs, Cats, Horses, All Pets, Endo cannabinoids System, Alzheimer, phoenix-tears, Liver Cancer Stage 4, Breast Cancer, Energy, Qi Gong, shaman, Sage, shamanic healing, Ayahuasca, Healing Plants, Grounding, MMS, Jim Humble, Miracle Mineral Supplement, Rewired, Dr. Joe Dispenza, Gaia, Series, micro-dosing psilocybin, Mindfulness, Sleep, Plant medicine, Paleo Lifestyle, Qigong, Chinese Healing, Shamanism, Yoga, Yogic Path, Spiritual, Love, Ancient Knowledge, Pain, Healthy Lifestyle, Nutrition, Monsanto, Documentary, Superfood, Healthy Foods, Lifestyle,
Parkinson's, Placebo, Nervous System, Mind Body Healing, Quantum Leap, Nature Of Reality, Mind Body Healing, Subconscious Mind, Energy Healing, Life-force, Wellbeing, Love, Peace, Joy, Alive, Gaia, Ickonic, Bruce Lipton, Deepak Chopra, Dr. Joe Dispenza, Gregg Braden, Randy Veitenheimer, Dr. Wayne Dyer, Eckhart Tolle, Marcel Messing, Sound of Creation, Geometry, Frequency, Medical Intuition, Sacred Power, Secrets Of Sleep, Awake, Insomnia, Narcolepsy, Retreats, Retreat, Reiki, Quantum Touch, Meditation, Affirmations, Energy & Vibration, Balance, Abundance, Change Your Thoughts, Change Your Life , Gratitude, Letting Go, Subconscious Mind, Chakras, Energy Wheels, Acsension