Product Description
Science behind and benefits of resveratrol
Resveratrol supplementation has been shown to increase lifespan. Resveratrol is a potent Sirtuin activator.
Resveratrol has similar effects on your body as a calorie-restricted diet. Resveratrol reduces your blood pressure, protects your brain, protects your arteries and even has anti-cancer potential.
It would be beneficial to supplement resveratrol alongside NMN and Quercetin. This is because, in order for your sirtuins to perform their beneficial work, we want to activate them with resveratrol and increase their fuel with NMN. Regarding Pure Quercetin, in addition to offering a plethora of health advantages of its own, it also lengthens the half-life of resveratrol and should be taken as part of the same supplement regimen.
Resveratrol is a polyphenol found mainly in the skin of red grapes. It protects the plant from fungi, diseases, insects and UV light. Resveratrol is also found in small amounts in grape juice and red wine. For an effective dose of resveratrol, it is best to take a supplement.
Trans-resveratrol for best efficacy
Resveratrol occurs as cis- and trans-forms. Trans-resveratrol is the most stable and biologically active form. The positive properties attributed to resveratrol are therefore mainly linked to trans-resveratrol.
100% Pure trans-resveratrol with no additives
Pure Resveratrol capsules contain only pure trans-resveratrol of synthetic origin. Nothing else. The certificate of analysis can be requested from us.
Inner Youth supplements are:
Produced according to GMP and ISO9001 standards.
Free from artificial ingredients, wheat, gluten, yeast, soy, corn, milk or preservatives (with exceptions).
Suitable for vegetarians and vegans.
Ingredients:
Trans-resveratrol
Allergy information:
No allergens listed
Dietary supplement. Category: Other.
A varied, balanced diet and a healthy lifestyle are important.
Dietary supplements are no substitute for a varied diet.
Store dry, cool, dark and out of reach of young children.
Warning:
People taking medication should use this product only under medical supervision.
Not suitable for pregnant or breastfeeding women.
Not suitable for children under 18 years of age.
Do not exceed the recommended dosage.
Do not use if the seal of the package is damaged at the time of purchase.
Consult your doctor first if you are under treatment for a medical condition.
Useful links:
Small molecule activators of sirtuins extend Saccharomyces cerevisiae lifespan
Evidence for a Common Mechanism of SIRT1 Regulation by Allosteric Activators – PMC
Resveratrol vs. calorie restriction: data from rodents to humans
Sirtuin activators mimic caloric restriction and delay ageing in metazoans
A low dose of dietary resveratrol partially mimics caloric restriction and retards aging parameters in mice
Resveratrol: A potential challenger against gastric cancer – PMC
Resveratrol and Cardiovascular Diseases
Distinct metabolic effects of resveratrol on lipogenesis markers in mice adipose tissue treated with high-polyunsaturated fat and high-protein diets
Dietary resveratrol prevents development of high-grade prostatic intraepithelial neoplastic lesions: involvement of SIRT1/S6K axis
Resveratrol: A potential challenger against gastric cancer – PMC
Resveratrol ameliorates atherosclerosis induced by high-fat diet and LPS in ApoE−/− mice and inhibits the activation of CD4+ T cells | Nutrition & Metabolism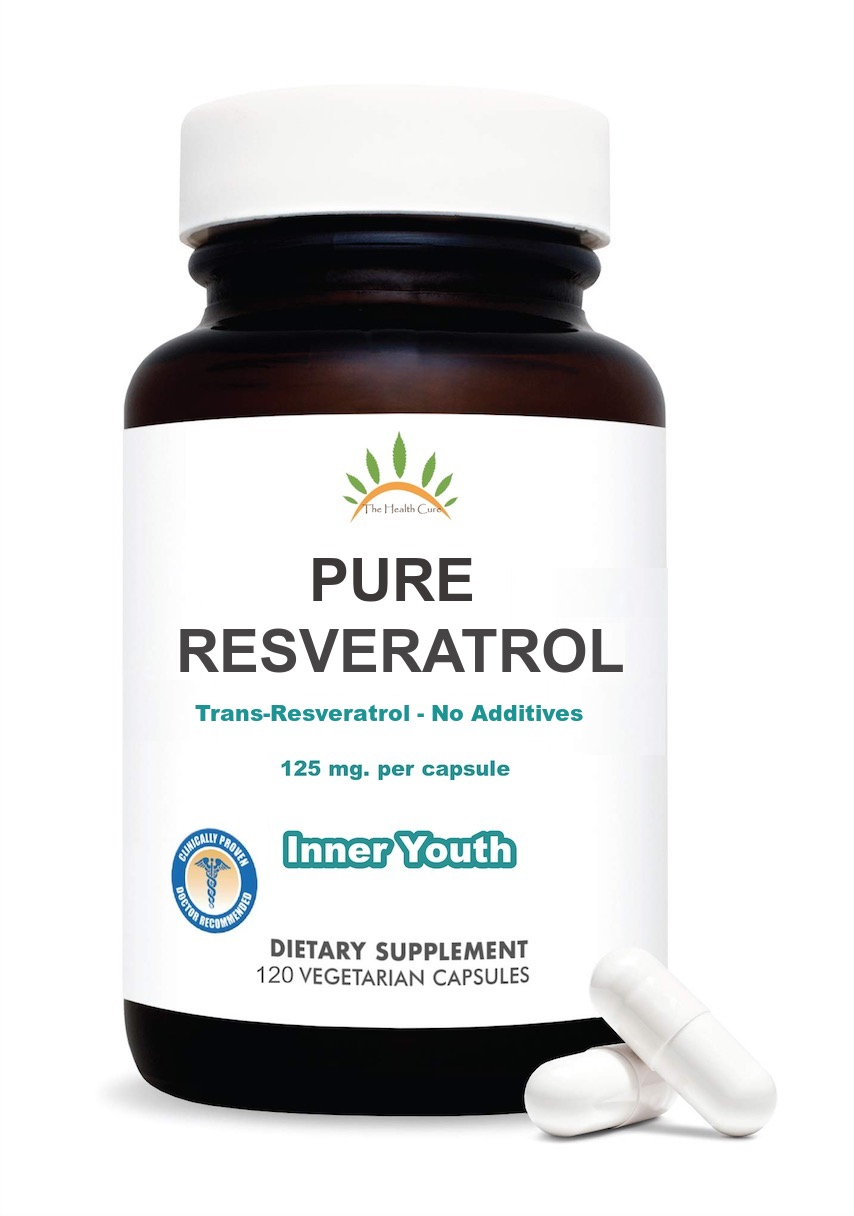 Additional Information
| | |
| --- | --- |
| Country of Manufacture | United States |
| Brand | Inner Youth |
You may also be interested in the following product(s)
Customer Reviews
| | |
| --- | --- |
| Average rating | |
| Review count: | 0 |
Write Your Own Review