Product Description
What is glycine?
Glycine is a non-essential amino acid. The liver makes glycine from serine when glycine does not get enough from food.
Food products containing glycine
Products containing high levels of glycine include meat, fish, dairy and eggs. Collagen and gelatine, which is used in desserts, are particularly high in glycine. Salmon, shellfish, chicken breast and milk are also sources of glycine. A plant product with a high glycine content is soy protein powder.
Research on the benefits of glycine
Glycine as an amino acid is a building block for proteins. It also has several roles in the body, which are still being researched.
1000 mg glycine per capsule
The dose of glycine in studies is often high, up to a few grams per day. Most glycine supplements contain 500 mg, which means you need a lot of capsules to get to that dose. Life Extension's higher-dose 1000 mg capsules make it easier and more economical to dose glycine high.
Ingredients & Usage
Take 1-3 capsules on an empty stomach around bedtime, or as recommended by a doctor.
One pack of Life Extension Glycine contains 100 capsules, sufficient for 100-33 days at 1-3 capsules per day.
Serving per capsule
Glycine 1000 mg
Ingredients:
glycine, capsule (vegetable cellulose), ascorbyl palmitate.
Allergy information:
No allergens listed
Dietary supplement. Category: Amino acids.
A varied, balanced diet and a healthy lifestyle are important. Food supplements are no substitute for a varied diet.
Store dry, cool, dark and out of reach of young children.
Warning:
Do not exceed the recommended dosage.
Do not use if the seal of the package is damaged at the time of purchase.
Consult your doctor first if you are under treatment for a medical condition, if you are pregnant or breastfeeding.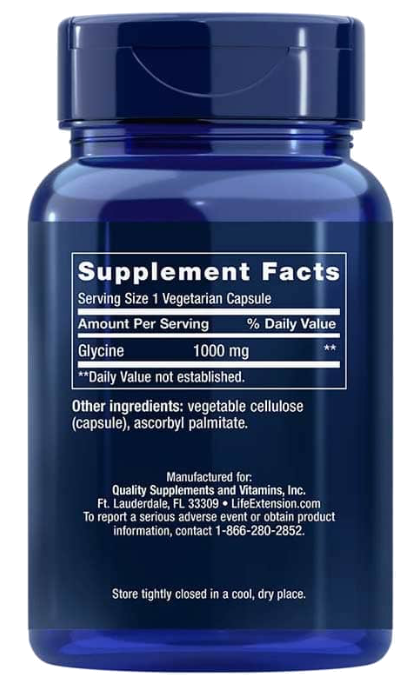 Additional Information
| | |
| --- | --- |
| Country of Manufacture | United States |
| Brand | Life Extension |
Customer Reviews
| | |
| --- | --- |
| Average rating | |
| Review count: | 0 |
Write Your Own Review