Product Description
Zinc for maintaining healthy cells and tissues
With 10 mg of zinc (100% RI) per capsule, DNA Protection Formula helps build body protein. Zinc also supports the body's natural defences. The mineral is also an antioxidant that helps protect cells from external influences, such as air pollution and UV radiation.
Zinc:
Contributes to normal DNA synthesis
Contributes to normal cell division
Cell protective
Protects against free radicals
Supports the immune system
The superfood Watercress
Watercress is not only tasty addition in a salad. This little plant is packed with vitamins and minerals and is therefore considered a superfood.
Chlorophylline
Chlorophyll (chlorophyll) gives plants, grasses and algae their green colour. Plants use chlorophyll to convert carbon dioxide into water, glucose and oxygen with the help of sunlight. The highest concentrations of chlorophyll are found in superfoods such as chlorella and spirulina.
Chlorophyllin is a water-soluble derivative of natural chlorophyll. At 120 mg per capsule, a high dose of chlorophyllin has been added to DNA Protection Formula.
Flavonoids from Hop
Hop (Humulus lupulus) provides the aroma and bitter taste of beer. The hop plant contains xanthohumol. This is a flavonoid not found in other plants. Unfortunately, during beer brewing, this phytostuff is almost completely lost. Unlike red wine, which still contains the flavonoid resveratrol from grapes, beer hardly contains any xanthohumol.
With DNA Protection Formula, however, you do get an ample amount of these flavonoids. XanthoForce™ was chosen, a standardised extract that provides 12 mg of xanthohumol per daily serving.
Ingredients & Usage
Take 1 capsule daily with a meal, or as recommended by a healthcare practitioner.
One pack of Life Extension DNA Protection Formula contains 30 capsules, sufficient for 30 days.
Zinc (as zinc oxide) 10 mg
Watercress whole herb extract (Nasturtium officinale) 400 mg
Chlorophylline (from sodium magnesium chlorophylline) 120 mg
Hop bubble extract (gestd. at 10% xanthohumol)
(Humulus lupulus) [XanthoForce™] 120 mg
Allergy information:
No allergens listed
Dietary supplement. Category: Minerals, Herbs, Other.
A varied, balanced diet and a healthy lifestyle are important. Dietary supplements are no substitute for a varied diet.
Store dry, cool, dark and out of reach of young children.
Warning:
Do not exceed the recommended dosage.
Do not use if the seal of the package is damaged at the time of purchase.
Consult your doctor first if you are under treatment for a medical condition, if you are pregnant or breastfeeding.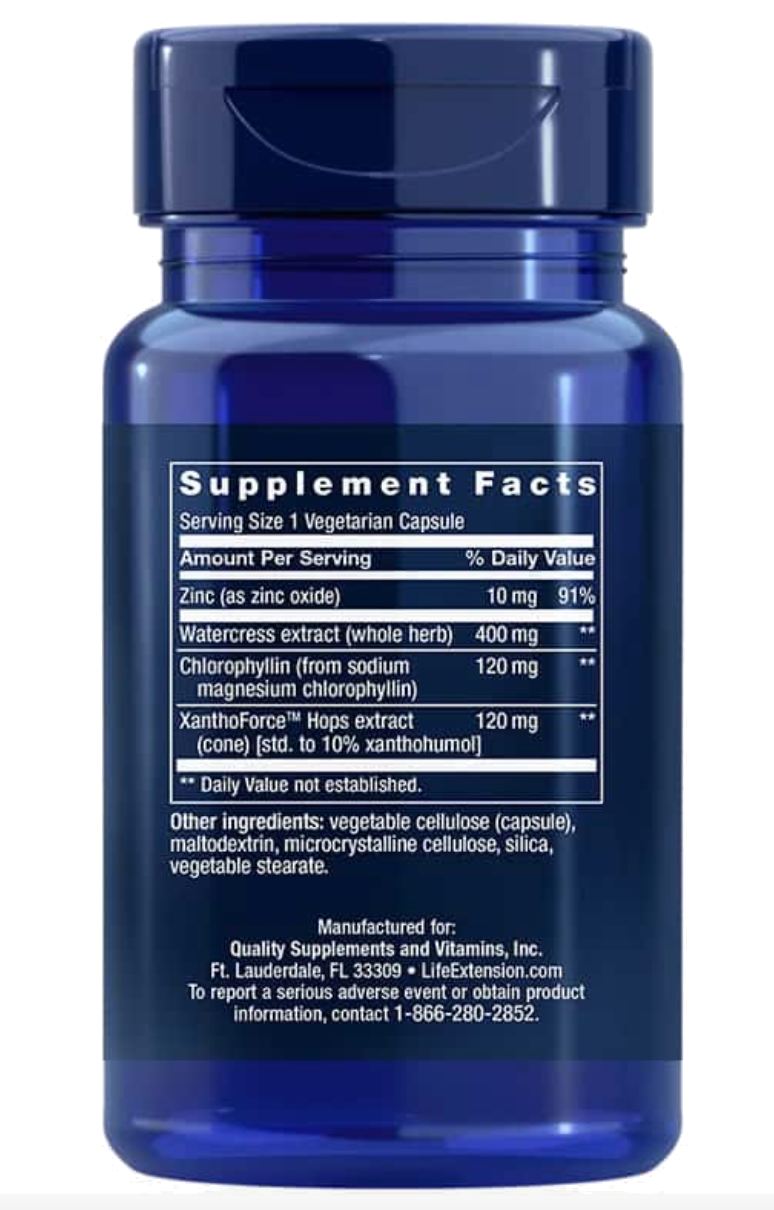 Additional Information
| | |
| --- | --- |
| Country of Manufacture | United States |
| Brand | Life Extension |
You may also be interested in the following product(s)
| | | | |
| --- | --- | --- | --- |
| | | | |
Customer Reviews
| | |
| --- | --- |
| Average rating | |
| Review count: | 0 |
Write Your Own Review