Product Description
All-Inclusive 5 days
Me-Time

In Nature To Recover and Relax From Your Busy Life!

Finding time for yourself can be challenging in today's fast-paced world, but it's essential to prioritize your well-being.

Me-time refers to a period of time (for example 5 days) that an individual (man and/or woman) consciously sets aside for themselves to engage in activities that they find personally fulfilling, relaxing, or rejuvenating. It is a valuable practice of self-care that allows people to focus on their own needs, interests, and well-being. Me-time can be customized to suit individual preferences and can take various forms depending on personal preferences and circumstances.

Purpose and Benefits:

Me-time is dedicated solely to self-nurturing and personal growth. Its primary purpose is to recharge, restore balance, and promote overall well-being. By taking time for yourself, you can experience the following benefits:
Stress reduction:

Me-time

provides an opportunity to unwind, release tension, and alleviate stress. It allows you to escape the pressures of daily life and find moments of tranquility.
Self-reflection and self-awareness: Spending time alone helps you gain a deeper understanding of yourself, your thoughts, and your emotions. It enables introspection, self-reflection, and introspective practices such as meditation or journaling.
Personal development:

Me-time

offers a chance for personal growth and development. It allows you to engage in activities that enhance your skills, knowledge, or hobbies, fostering a sense of fulfillment and accomplishment.
Improved mental and emotional well-being:

Me-time

nurtures mental and emotional health by providing space for relaxation, self-expression, and self-care. It can boost self-esteem, self-confidence, and overall happiness.
Enhanced productivity and focus: Taking regular

Me-time

can actually improve your productivity and focus in other areas of your life. By recharging and rejuvenating, you return to your responsibilities with renewed energy and clarity.
Activities:
Me-time can encompass a wide range of activities depending on your personal preferences, interests, and the time available. Some common activities during Me-time include:
Activities you enjoy, such as painting, gardening, playing a musical instrument, or cooking. Hobbies provide a sense of fulfillment and relaxation.
Reading a book from our library or bring a good book of your own: Dive into a captivating novel, indulge in self-help or inspirational literature, or explore topics of personal interest. You can relax and read a book at our waterfalls or by the lake.
Physical exercise: Engage in activities that promote physical well-being, such as yoga, going for a run, practicing martial arts, or participating in a workout session.
Spa or self-care rituals: Pamper yourself with a warm bath, or take part in a sweat lodge ceremony, indulge in a facial or body treatment, practice mindfulness, or engage in self-care practices like aromatherapy, sound meditation or regular meditation.
Spend time in nature by going for a hike, taking a walk in the forrest, or simply sitting in a peaceful outdoor setting to soak in the tranquility.
In the evenings, we sit by the campfire and maybe play musical instruments, drink coffee or tea and have a cosy comfortable conversation with each other or get completely absorbed in yourself while staring at the beautiful fire.
We will also tour the lovely sites of the Morvan and visit the wonderful places where we may meditate and or relax and take in the beautiful views from the mountains.
Enjoy breakfast, lunch and dinner during your stay with us.
Throughout the day there are snacks, fruit, soft drinks, water, coffee and/or tea.
Alcoholic drinks can be consumed at the bar, but are at your own expense.
In short, let yourself be pampered in one of the most beautiful, breathtaking places in the Burgundy region!
In partnership with Resort Bousset
Are you ready for your Me-Time?
Saturday 9 - Wednesday 13 September 2023
Minimum 6 maximum 12 participants
If you have made your reservation then shipping costs will be refunded!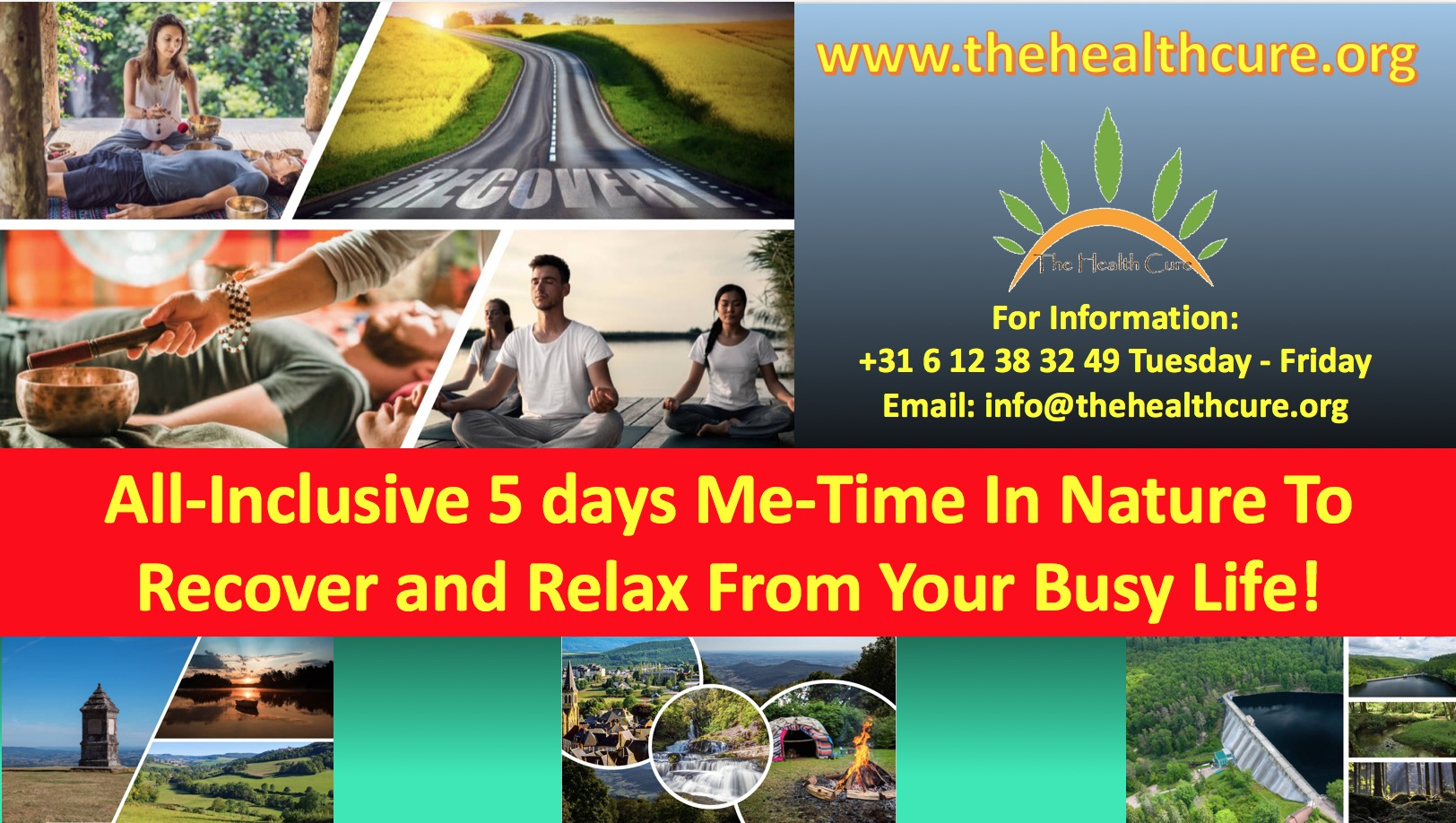 Additional Information
| | |
| --- | --- |
| Country of Manufacture | |
| Brand | The Health Cure |
Customer Reviews
| | |
| --- | --- |
| Average rating | |
| Review count: | 0 |
Write Your Own Review