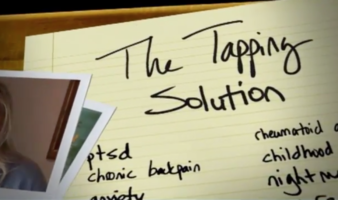 The Tapping Solution Documentary Film
This entry was posted on December 27, 2016 by The Health Cure.
In the film you'll get to see the participants remarkable journey and the physical and emotional transformation brought on from this simple healing technique. You'll witness moments of struggle, support, and hope as what is revealed, with startling clarity, is that we can heal ourselves through our meridian system.
Millions of people are settling for lives filled with poor health and emotional baggage. Not knowing how to achieve the joyful and satisfying lives they desire, they're stuck accepting a lifestyle of emotional trauma, chronic physical pain, compulsions and addictions, or perhaps just an empty feeling inside. Along with these problems come pills to kill the pain, sleep at night, and suppress anxiety – but this is hardly better than the disease.
If you're like many people, you feel trapped, caught in this cycle. You're tired of feeling sad, depressed, anxious, discontent, and unwell. You're sick of the expensive and ineffective treatments. You're fed up with relinquishing the power over your health and happiness to psychologists and doctors. You'd like to grow, flourish, and thrive, putting the past in the past. You want to be your best, living a life that is filled with peacefulness, joy, and fulfillment, from day to day and moment to moment.
In this movie, you'll meet 10 people from around the country with a variety of challenges, such as PTSD, chronic back pain, fear of public speaking, Fibromyalgia, abundance blocks, weight loss, smoking, grief and more. You'll follow their journey as they learn EFT Tapping (and you do as well) and then dive deeper into the keys to changing your life.
The movie teaches how to release physical pain, how our emotions affect our body, releasing trauma, how our childhood is affecting us today, how to clear limiting beliefs, using Tapping to make the Law of Attraction work for you, and much more!
Source: Youtube, www.thetappingsolution.com