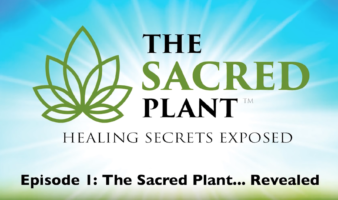 The Sacred Plant Secrets Exposed
This entry was posted on January 26, 2018 by admin.
Welcome to the first episode of the eye-opening documentary series "The Sacred Plant: Healing Secrets Exposed".
This episode is entitled: The Sacred Plant...Revealed.
This is the largest and most comprehensive series ever produced on the topic of plant medicine.
The live airing of all 7 episodes for free happening now.
If you or a loved one is looking to prevent, treat and even beat a life threatening disease, this eye-opening docuseries will provide you with the tools you need to make informed and empowered decisions about the health of you and your family.
What you'll learn in this episode:
* You'll discover the name of The Sacred Plant as well as some background on it.
* You'll meet the doctors who appear throughout the series.
* You'll learn about a new system in the body that was only recently discovered and how it works together with The Sacred Plant.
* You'll hear about "The War on The Sacred Plant" — how it started and how it has negatively affected millions of people.
* Plus, you'll meet Amber, Kristin, and Patricia and hear their personal stories, including what they suffer from and how The Sacred Plant has helped them.
Source: Youtube
Posted By The Health Cure, January 26 2018
Tags; cancer cure - Cannabidiol - Cannabidol - Cannabis - CBD - CB1 - CB2 - Cure Tremor - Interview - Hemp oil - medicinal marijuana - Parkinson - phoenixtears - Rick Simpson - Run From The Cure - Testimonials - the health cure - epilepsy - tremors - Treatment - Breast Cancer - Lung Cancer - Epidemic - Healthy - Healthy Life - Enjoy - Happiness - Cannabinoids - Health Center - Nature - Nature Cure - Sacred Plant